This customer contacted us and really need help with their den. This room was used for several things: 1) media equipment from the back side of the TV that is on the wall in the living room 2) TV, movie and gaming for teenagers in the house 3) spare bedroom for guests 4) storage of holiday and seasonal items
For us the challenge was getting all of the audio/video equipment into the left corner so that it could be wired through the wall to the living room- the rest of it was easily designed using the Zoom-Room.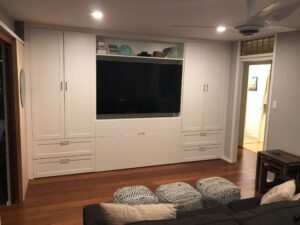 This finished photo shows the completed project. The upper left doors house all of the audio/ video equipment for the living room. Right doors and all of the drawers house the holiday storage. The entertainment center is ready to go and the queen size murphy bed is available for use in under a minute. Solved!