---
Can Pacific Coast Cabinetry replace just my doors and drawer fronts?
Unfortunately, no, we can't. We have found that in most cases, the completed project does not meet our standards. There are exceptions, please contact us for more information.
---
Can Pacific Coast Cabinetry match a new cabinet with my existing cabinetry?
In many cases, yes, we can. If you are trying to put a cabinet in place of a dishwasher or modify an oven cabinet, we may be able to help. However, it is important to state that because wood finishes age, amber, stain and get damaged, it is difficult to guarantee that a finish will be exact. We try!
---
Do you have customer service?
Of course! As a small business, we are here to answer your questions and offer assistance.
---
Does Pacific Coast Cabinetry install knobs and pulls?
We offer several lines of hardware in the shop for purchase. If we are building your cabinetry, you are welcome to purchase hardware from any vendor. If you would like it installed, please make sure to provide it before assembly so we can drill the correct holes while the cabinets are still in the shop. You are welcome to stop by and browse our selection for your cabinetry at home too.
---
Where does Pacific Coast Cabinetry purchase their doors?
Depending on our work load, crew size and door style, we either build doors here onsite or purchase them from a manufacturer in Salem. There are certain mitered door, aluminum, arched - specialty doors- that we do not have the tooling to build.
Our Shaker doors are traditional, 5 piece doors like the one shown here: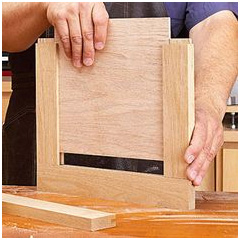 We also offer a solid wood slab door. We glue and domino hardwood together to create beautiful grain matched door and drawer fronts.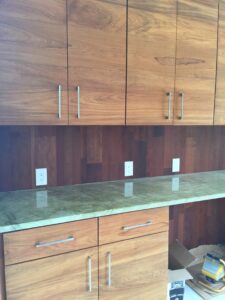 On some Euro design cabinets, we used hardwood plywood with solid wood edgebanding for slab doors.
---
Why does Pacific Coast Cabinetry prefer to use Domestic plywood?
We have seen the quality of all plywood change over the last few years. We find that the quality of domestic, veneer core plywood is superior to the imports. We want your cabinetry to last as long as you are in your home. Using CARB compliant plywood, assures your family the safest, longest lasting product. We do not use particle board.
---
What kind of hardware does Pacific Coast Cabinetry use?
We use Blum ( Blumotion) soft close glides and hinges as a standard. We find them to be beautiful, durable and easy to operate and adjust. We also have available products from Hafele, Richelieu, Salice and Rev-a-Shelf. We carry Berenson and Christianson knobs and pulls. Catalogs for Amerock and Liberty are available on request. (Please note that since Covid some hardware is hit and miss, so we are forced to use alternate brands or styles)
---
Can I get a Free estimate?
Yes, we offer a free site visit and estimate.
---
Why doesn't a drawing come with my estimate?
As a general rule, we do not offer renderings of our designs with our estimate. Once you have reviewed your estimate and decide to work with us, we will prepare an agreement and collect a deposit. After that agreement is received, we will prepare drawings for your review. It takes several hours to multiple days to create quality renderings and we cannot offer that as part of our free service.
---
Does Pacific Coast Cabinetry offer delivery and installation?
We offer delivery for a nominal fee, depending on your location. We also offer shipping just about anywhere. We are fully licensed and insured for remodels and installation - but you are also welcome to install yourself or have your contractor install. We will do all we can to help.
---
What is a 'face frame' and why is it different from Euro cabinetry?
We offer both face frame (FF) and Euro cabinetry. We use solid hardwood to build the front 'face' of our FF cabinetry. These faces are what you see when you open your cabinet door. Historically, this type of construction is more durable than Euro design. Our design usually contains a hybrid face frame that offers more space with the added strength of a FF. The Euro style cabinet typically uses plywood with an edge tape for the finished face. The result is a sleek, easy to access cabinet with doors that cover the entire front of the cabinet.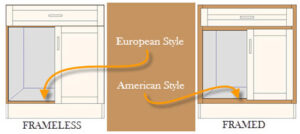 ---
How long does it take to get custom cabinetry?
The short answer is 8-12 weeks. This amount of time can change with many different factors including, our ability to get accurate measurements, access to the site, contractor delays, design changes, appliance purchases or changes, etc. When things are ready to measure, the appliances are purchased and the layout confirmed, we can get things into the shop, built and installed in this time frame. [Covid has caused shortages and delays in materials and supplies that can add long wait times to a project]
---
What is the difference between stock ( Home Depot, Lowes, etc) and Custom cabinetry?
There are three levels of cabinet manufacturing: Stock, semi-custom and custom.
Stock cabinetry come in standard sizes. They are made and sitting in STOCK in a warehouse. Typically they are offered in 3" increments; so a base cabinets can be 12", 15", 18", etc. So if your space is 25 1/2" you purchase a filler to add to a 24". You lose that 1 1/2" of space. They offer a wide range of options, each with a price. They are a perfect fit for a budget job, rental property, a flip or in a lesser used area like a guest bath or garage. This is your least expensive (unless you add bells and whistles) and often can be a fast delivery.
Semi-custom cabinetry begins as stock cabinetry, but it is not assembled until an order is received. Some amount of customization is available during the order process for an added fee. The construction methods and materials are the same as stock cabinets, as well as the life expectancy of the finished product. The cost is higher than stock cabinetry and often times is comparable with custom pricing.
Custom cabinetry is truly that. When your order is placed, each cabinet box, door and drawer is listed to be fabricated. The materials for your job are ordered because large volumes of materials are not stock piled. You are not limited to to standard height, depth, width, stain, finish - anything. The quality of cabinetry can vary from shop to shop, so it is always a good idea to visit and ask questions. Look at the joinery, feel the drawer boxes, see the materials and tools. A quality custom cabinet will last a lifetime. They do require more lead time, can be more expensive and require a knowledgeable installer, but your finished product will offer you years of beautiful service.
---
How long do custom cabinets last?
A quality built, custom cabinet should last as long as you own your home. We offer a limited lifetime warranty as do many other builders of fine cabinetry.